The reimbursement rate that is used to calculate the value of business drives can be changed from the Settings page of the MileIQ dashboard. The distance unit that drives are reported in can be changed from the same Rates & Units section. You can log into your dashboard (same email and password as the app) at the MileIQ web dashboard (dashboard.mileiq.com). 

Once logged in to the dashboard, click on the Settings button next to your username to go to the Settings page. There you can set a custom business rate or set how distances are reported (miles or kilometers).



Edit the business rate:
From the Rates & Units section of the Settings page, a custom rate can be set for calculating the value of business classified mileage. The default (for 2017) is $.535 per mile, but by clicking and typing in the text box, any amount can be entered. (Note: rate must be greater than $0.00). Clicking 'Save' will set the new rate throughout MileIQ. Any reports that are submitted will also reflect the updated rate.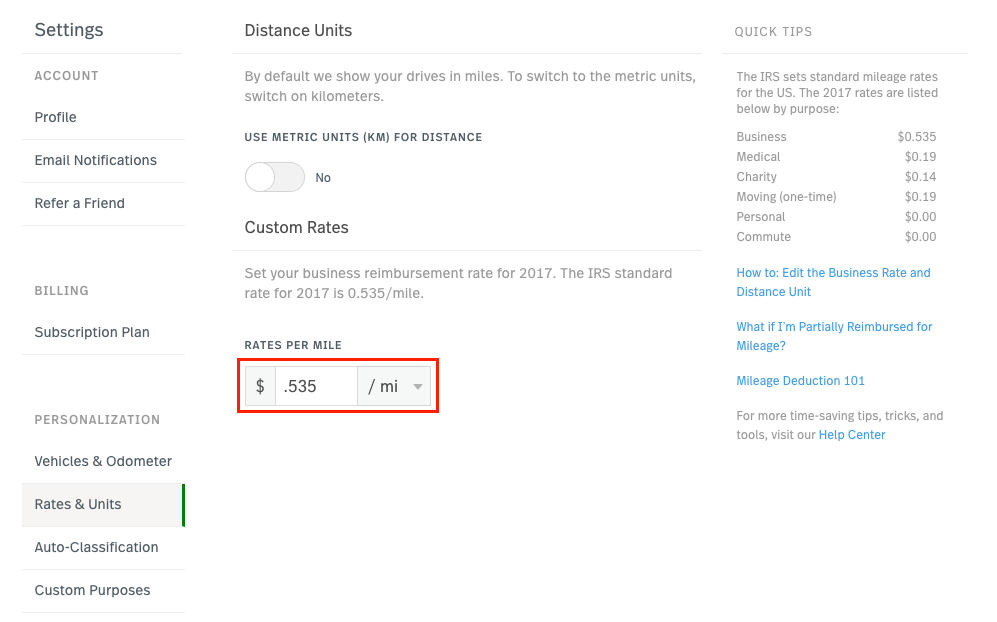 Notes: 
The business rate can also be edited anytime a report is run. From the drive dashboard, select any number of classified drives and then choose the green button "Report # drives" from the bottom right. Doing so will give you report options, including where to export and some fields to enter report details, such as business rate. 
Adjusting the business rate when reporting drives will only be applied to the drives in current report. Use the Settings page to set a new default rate.
Please note that the IRS has announced the standard mileage rates for 2017. The standard rate for business driving will be 53.5 cents per mile. You can read more on the IQ Blog: IRS Standard Mileage Rate 2017: Business, Medical & Charity Drives
Edit the distance unit:
The unit MileIQ uses to calculate distance can be changed by toggling the 'Use Metric Units (KM) for distance' to Yes or No.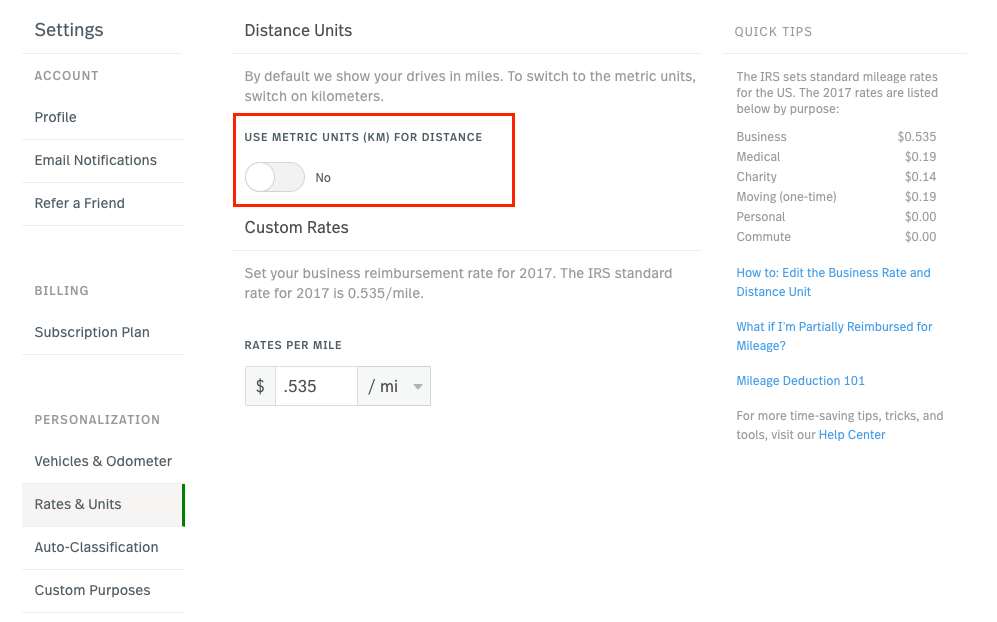 Sliding the toggle to the green 'Yes' will cause MileIQ to re-calculate the distance (and therefore the value) of all drives in MileIQ and convert them to kilometer. Any reports that are submitted will also reflect the new distance unit.