Need to cancel your subscription?
Customer satisfaction is our number one priority, and if there's anything we can do to improve your experience with MileIQ, please let us know by reaching out to support@mileiq.com.
However, if you need to cancel your subscription, we certainly understand. You can cancel your subscription directly on the web dashboard unless you've upgraded through your phone by going to Settings > Subscription Plan > Cancel Subscription.
Cancelling on the Web Dashboard
To cancel your subscription on the web dashboard, please visit dashboard.mileiq.com and sign in using the same email and password as the MileIQ app.
From there, click on Settings > Subscription Plan > Cancel Subscription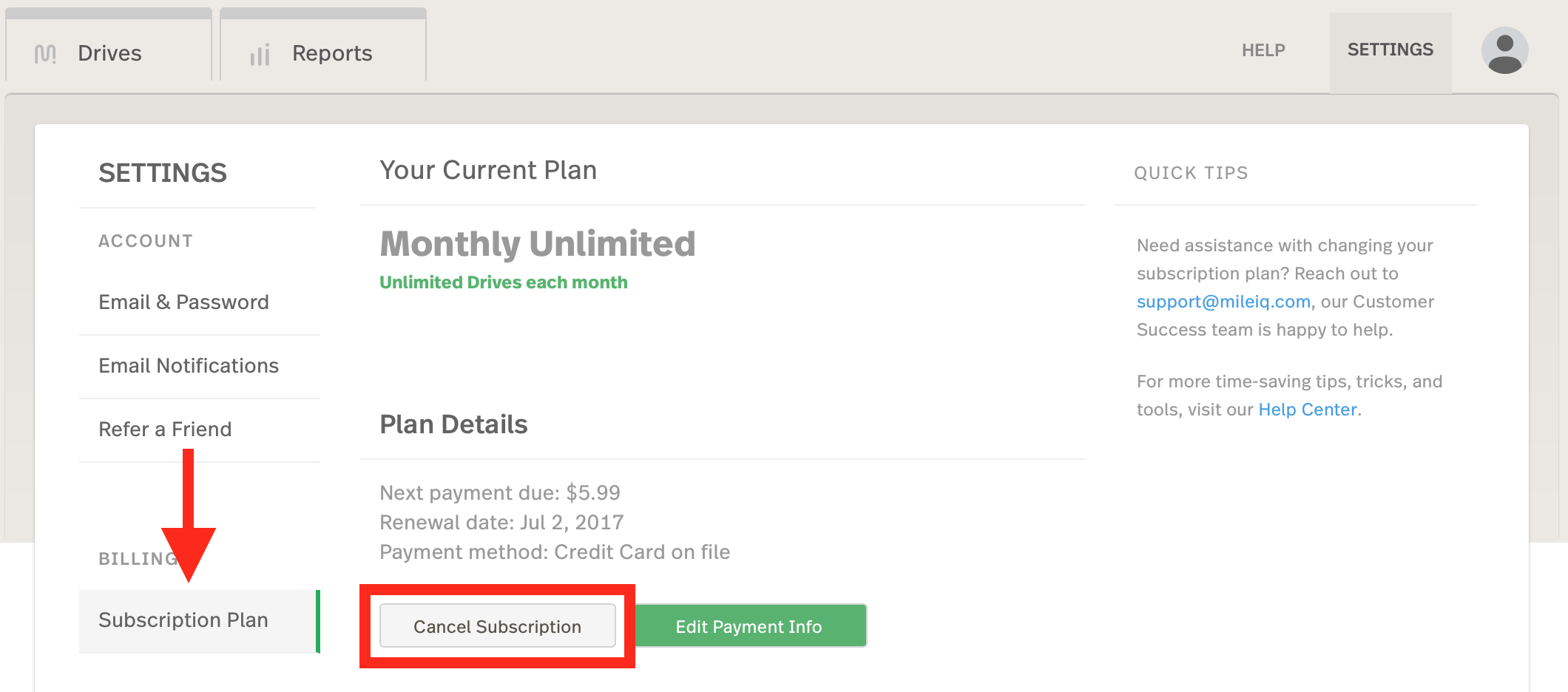 Originally subscribed through your phone?
If you signed up through iTunes or Google Play, you can go directly to the service to set your subscription to cancel instead of signing into the web dashboard. Alternatively, you can go to the web dashboard to be redirected to the respective billing service to set your subscription to cancel. 
Important: Ensure you sign into the same iTunes or Google Play account that was used to purchase the subscription on your device.
Once the cancellation is processed, your account will revert to the basic 40 free drives per month plan at the end of your billing cycle.
If you want to stop using MileIQ altogether, we recommend you download any data that you want to save from the dashboard, adjust your notification settings, then delete the app from your device and you're all set.
Additional Information:
If you upgraded through Google Play, iTunes, or Amazon, you can cancel directly through the respective service without having to login to the web dashboard. Just make sure you're signing into the same iTunes, Google Play, or Amazon account you originally used to purchase your premium subscription.

For additional information on how to cancel through Amazon, Amazon customers will always be able to get quick support by simply signing into their Amazon subscription manager and clicking the "Contact Us" button at the bottom of the page or by calling Amazon Customer Support directly at 888-283-0524. For more information, please see here: Manage Your Subscriptions on Amazon
Please review our Subscription Terms for issuing refunds here: Terms of Service
For users on the free plan who no longer wish to continue their subscription, you can simply unsubscribe from future emails and uninstall MileIQ from your device.
To delete your account altogether, please sign out of MileIQ and then email support@mileiq.com with your deletion request.