To ensure the best possible experience with MileIQ, please reference your device's troubleshooting guide for detecting drives:
Read on for more general information on settings or actions that can have an impact on drive detection in MileIQ.

Important - On iOS, your iPhone will occasionally ask "MileIQ Has Been Using Your Location In The Background. Do You Want to Continue Allowing This?" In order for MileIQ to detect drives, you must choose "Continue" to this prompt. Selecting "Don't Allow" will disable location services and MileIQ will not detect drives.


1. Are Location Services "On" for MileIQ?
You can verify your location settings:
on

iOS

by going to: Settings > Privacy > Location Services (On) > MileIQ >

Always and Precise Location (on)



Please ensure your location services for MileIQ are set to

Always

since selecting

While in Use

will prevent automatic drive detection.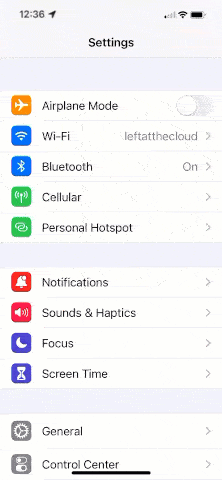 on

Android

by going to: Settings > Location > App permissions > MileIQ >

Allow all the time & Use precise location (on)


2. Is Background App Refresh/Data "On" for MileIQ?
You can verify your background refresh/data settings:
on iOS by going to Settings > General > Background App Refresh > MileIQ > On

on Android by going to Settings >

Connections > Data usage > Mobile data > On
Important - if you've set a cellular data limit, make sure that you have not crossed it recently.


3. Have you force-quit MileIQ on Android?
Force-Quitting is done by clicking the square Android button and swiping the MileIQ app/icon off the screen. On many versions of Android, all drive detection will stop if you do so. Please keep MileIQ running in the background of your device so that it can capture and record your drives.


4.
Was MileIQ paused?
If you pause the app by turning off Drive Detection in the MileIQ app (Account Settings > Drive Detection (off) > Automatically Resume (on)), please wait a bit before taking a drive after un-pausing. Depending on your location when you un-pause, it can take between 5 to 15 minutes for MileIQ to get accurate location information. If we don't get accurate location information before the drive starts, unfortunately, the drive may be disregarded.


5. Is your device restricting background data, app, or battery usage?
Some default settings/apps on Android devices are designed to automatically shut down apps and will prevent MileIQ's drive detection from running in the background of your device. This can cause gaps in your driving record but is easily prevented. Check your Android device's steps to see how to prevent or resolve these issues for MileIQ: Optimize Drive Detection on Android Phones
Third-party apps on iOS and Android that attempt to be Memory boosting, Data compression, task-killing, battery-saving, anti-virus or app management apps can interfere with MileIQ. Please disable them (or add MileIQ to the third-party app's Whitelist or Ignore List) to see if drive detection improves.


6. To ensure that MileIQ is not suspended from running in the background, please consider regularly opening the mobile app.
While useful in classifying your drives while they're fresh in your memory, opening the mobile app regularly also prevents the app from being shut down without your knowledge by any app/battery optimizing settings.
Tip - On iOS 11 and higher, check your setting for "Offload Unused Apps" under Settings > General > iPhone Storage. If enabled and MileIQ has not launched or detected any movement over a period of time, depending on your phone storage situation, MileIQ may have been offloaded by iOS. You will still see the app but it will have a download icon (cloud with a down arrow). Tap on the app to download then open the app and sign in to your MileIQ account.


7. Are Wi-Fi and Bluetooth enabled?
Even when you aren't connected to a Wi-Fi hotspot (think - a coffee shop), your mobile device uses the hotspot proximity (and if you live in/near a city, you pass thousands of them a day) to register location information. Wi-Fi is far more efficient on batteries than other location sources like GPS. You can turn on WiFi by going to Settings > Wi-Fi > On.
If you've added a vehicle to your account using Bluetooth, this can help improve our ability to capture your trips in that car. You can find information on how to do this in our help article How to: Add vehicles via Bluetooth.


8. Are you running the latest version of your device's OS?
Having the most up-to-date operating system on your phone will provide the latest features to support and protect background apps like MileIQ.
You can update your device's OS:
on iOS by going to Settings > General > Software Update > Download and Install

on Android by going to Settings > System > About phone > System updates


9. Are you running the latest version of MileIQ?
We are constantly improving MileIQ and having the latest version will ensure optimal performance.
You can update your version of MileIQ, if needed:
10. Is your account currently logged in (and is it the correct account)?
Make sure you're signed in to the MileIQ app and using the correct email address.
You can verify by navigating to Account Settings in the main menu of the app. After "Signed in" you should see the email address associated with your account. Double-check for any misspellings as a second account may have accidentally been created.
Please reference this article for more information on what determines a drive.