Currently, one of the easiest ways to add a vehicle is from the Car Icon at the bottom of the Drive Card. Simply tap the Car Icon and then Add New Vehicle.
Android Devices
If you have an Android* device, you can take full advantage of automatic vehicle pairing when Bluetooth is enabled on your device and connected to your car. With your device already paired to your vehicle, tap Add New Vehicle like in the example above. Then, tap Add via Bluetooth to scan for your vehicle.
Then, select the vehicle from the list and set your vehicle options:
Enabling 'Auto-assign this vehicle' will have MileIQ automatically assign your vehicle to a drive when your device is paired to this vehicle via Bluetooth.
Setting the vehicle as the Primary Vehicle will automatically assign the vehicle to all your new drives unless another vehicle is paired with your device and has been added to your MileIQ account.
If you have multiple vehicles with Bluetooth-functionality used with MileIQ, it's recommended to have 'Auto-assign this vehicle' enabled for all vehicles so MileIQ automatically assigns the appropriate vehicle used for the drive. 
*Note: The Bluetooth Vehicle feature is not yet available for iOS devices and is currently in development.
iPhones and iPads
After tapping Add New Vehicle, select '+ Add New' to bring up the Vehicle Details form as shown below.
If you already added a vehicle from the Vehicle Tab on the Drive Card or from the Web Dashboard, you'll have the ability to edit the existing vehicle information, add an additional vehicle, delete the existing vehicle, or toggle the Primary vehicle setting.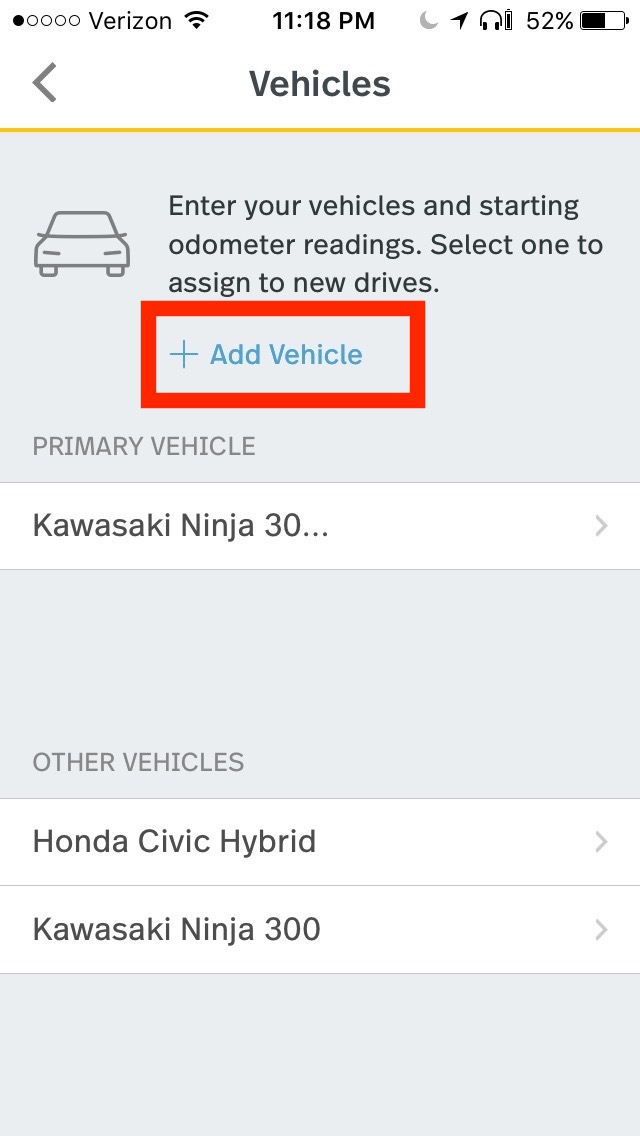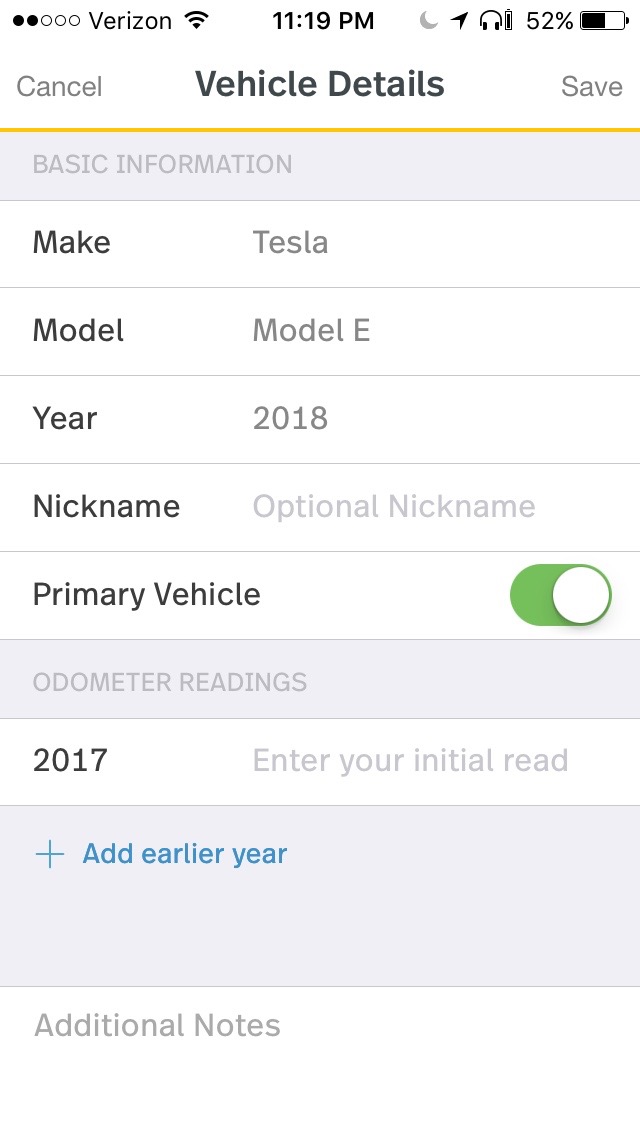 Web Dashboard
You can also add vehicles to your drives from your account at
dashboard.mileiq.com
(same email and password as the app). From the dashboard,
drives can be selected one by one or by selecting multiple drives to add info (like vehicle) to all selected drives. Hint: Use the checkbox next to the date to select all drives on that day.
Once you've selected the drives to add vehicle information, you can choose any of your previously added vehicles or add a new vehicle directly from here.
After adding the appropriate information to the fields for your vehicle, click on "Add Vehicle" to add the vehicle to your account and then selected drives.
Reminder:
Choosing a vehicle as the 'Primary Vehicle' will set it as your default vehicle that will automatically be assigned to newly captured and added drives.